File & Record Storage
---

We are the expert movers, moving Tampa, St. Petersburg, Clearwater, Ocala, Gainesville and West Florida.

File Storage, Record Storage - for all your moving and storage needs.
---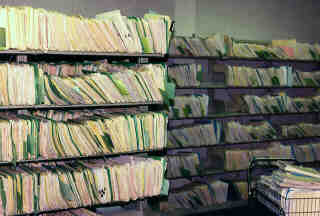 Does this clutter look like your file room?

If your older business files are starting to overrun your office, maybe the solution is to get those files out of your office.
Offsite business records storage can be your solution to a multitude of problems. Not only will it save you space, but it can save you money, too.

What would you rather pay for storing your infrequently used business records? $12/sq ft/year? Or $.25/cu ft/month?

The average 4-drawer vertical filing cabinet takes up roughly 5 square feet of floor space. That means it costs you $60 a year, whether you ever open it or not.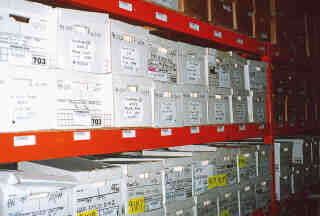 Neater, Safer, Less Expensive (cheaper)
If you rarely open it, why not pack those files into 6 storage boxes instead, and pay only $20.16 to store them for the year? Your files are still available if you need them, but they don't take up office space -- leaving more space available for your productive work and active files.
Not only will we store your records, we can index them for you too... for even faster retrieval -- meaning less effort for you

These prices are only estimates, of course, but the savings are real -- and they add up fast. If you have files you don't use often but must retain, why not call today for a free quotation? Put that extra floor space to better use, and save money at the same time.
---