Blocker History
---

We are the expert movers moving Tampa, St. Petersburg, Clearwater, Ocala, Gainesville and West Florida.
---
Over A Century of Service

for all your residential moving needs.
---
There are not that many companies that can say they once had a one-digit phone number. Blocker is one of them.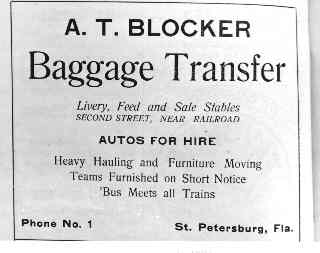 As you can see, Blocker has always been at the forefront, using the latest in technology, as modest as that was, to help us serve our customers. This is still the case today. Blocker was one of the first moving companies to invest in large scale multi-user computer system technology, allowing all our employees to track information about shipments like yours in real time.
Horse & Buggy
But, like most companies, Blocker started slowly and built on a solid foundation. Blocker was one of the companies which helped build St Petersburg, Florida. "Horse & Buggy" is usually a disparaging put-down nowadays, but in the late 1800's it was simply a fact of life; that was how you moved things from one place to another.
And from our strategic location right near the end of the railroad, Blocker helped haul wood and nails, bricks and mortar, and all manner of other construction materials to the various construction sites that comprised the "building boom" in early-1900's St Petersburg.
---
Your Father's / Grandfather's Moving Van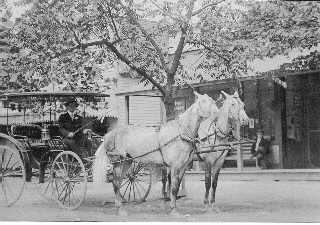 A. T. Blocker and his brother started Blocker's Livery Service in 1898, but they'd been in business doing hauling and related activities even earlier than that. The livery service slowly transformed itself, as horses and drays gave way to trucks, into the Blocker Transfer Company.
Blocker was, originally, a livery stable using teams of horses and drays to haul building materials to building sites all over the bay area as well as moving household goods. A.T. Blocker, our founder, was in the banking, auto livery, horse and carriage rental businesses.
Blocker met all trains arriving seven days a week delivering baggage to area hotels. Changing mobility trends--increased air travel, reduced train travel, shorter vacation stays, improving roads and the increasing popularity of automobiles--all pointed to a change in the ways people did business.
---
In the early 1920's, Blocker joined the National Furniture & Warehouseman's Association and, using that as a springboard, became a founding owner of Allied Van Lines. With changes in the industry, around 2013 Blocker left the Allied Van Lines family.
---